Servsafe Class Paterson NJ
MG Food Safety offers people in the food service industry a chance to obtain a ServSafe® Certification by way of our interactive and informative classes. We are committed to providing excellent assistance to everybody in the Tri-State area needing any ServSafe® Certification or food safety counseling, from business owners to restaurant employees. #1 Servsafe Class Paterson NJ.
ServSafe® Food Protection Manager Certification – ServSafe® Food Handler – ServSafe® Alcohol – ManageFirst Certification.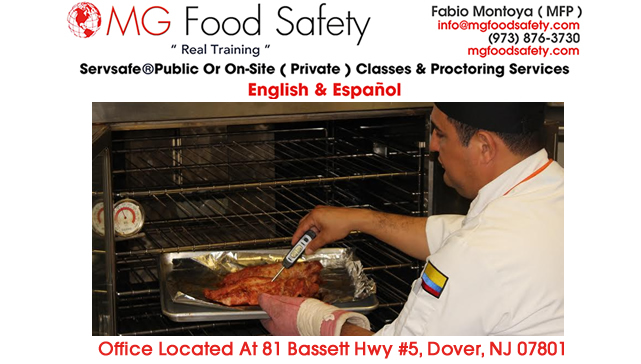 Servsafe Class Paterson NJ
Servsafe Foodhandlers Certifications:
Some of the jobs of a manager are to optimize their time, and to train their crew and
employees, but usually there is no time for it. That is we also provide Public and Private
Servsafe Foodhandlers Classes in either English or Spanish for employees
( Food Handlers, Waitresses, busboys )
We offer great discount for large groups
You can pay us on the same days of the class by cash, check
( payable to MG Food Safety ) or credit card.
Servsafe Class Paterson NJ
Servsafe Classes : Public, Private and Customized Servsafe® Training
We offer Public Servsafe® Classes in different locations, and our main office,
Located in:
342 Quaker Church Rd. Apt 252
Randolph, NJ 07869 USA
Private Servsafe® Classes
We offer the best Food Safety Training at the comfort of your
establishment/place, which give you the advantage of learning in their everyday environmental
and getting a hand-on approach. Just let us know when, where, at what time to be there
for the Private Servsafe® Class and the Online Test on the same day. We provide all material for the class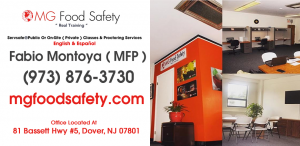 Servsafe Class Paterson NJ
Servsafe® Proctoring Services
For those who have already studied at hoome by Servsafe® Manager Online Course or by independent study. When
ready to take test, we offer a public ( in our office ) or a private Servsafe® Proctoring Service.
Servsafe® for foodhandler and employees
We also provide Public and Private Servsafe® foodhandlers Classes either in English or Spanish for
employees ( food handler waitresses, busboys )
Servsafe Class Paterson NJ
Servsafe® Alcohol
Do you want to save money in your insurance cost? We provide Servsafe® Alcohol classes for Managers,
waitstaff and bartenders. Both Primary and Advanced Test.
Servsafe® California Foodhandlers
Certification for California Food Handlers Card, English – Spanish
ManageFirst®
Cost control, Inventory, Production, Human Resources and more
Consulting: Production, HACCP, Pre-Inspections, Secret Costumer etc.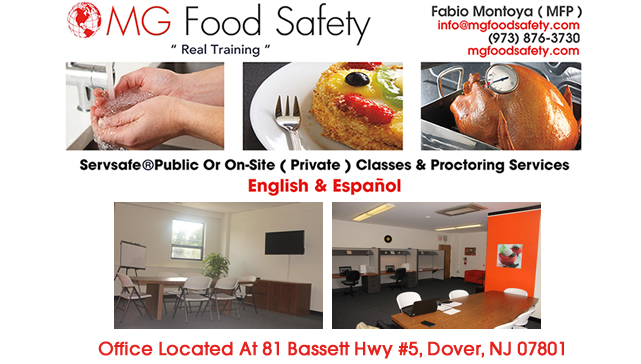 Servsafe Class Paterson NJ
Real Testimonials
– "Fabio was extremely helpful and is passionate about his work. He was great".
Laquanna T Brown
CBM Managed Services
– "Very good at reinforcing, important points. Excellent Presentation, Thank You"
Babette Bolcato
Greystone Park Psychiatric Hospital, NJ
– "The class was full of information, but I was able to grasp it because of the repetitiveness,
Thank You."
Tiffany Pender
South Jersey Extended Care
– "Very professional and approachable. Would recommend to others".
Ma. Aurora Angelika
Pure.
– "Every thing was taught to me very simple, and every question was answered clearly"
Briana Haney
White Castle
-"Small class was much better to ask questions and get answers, answered all that was asked.
Very happy with class."
Vincenzo Stabile
Vincenzo Ristorante